For more information on this release, see the official release notes
Included in this release:
New features/enhancements
Custom NEMSIS v3 exam values
Data Validation updates by page
General Data Validation updates – See a video on the feature improvements here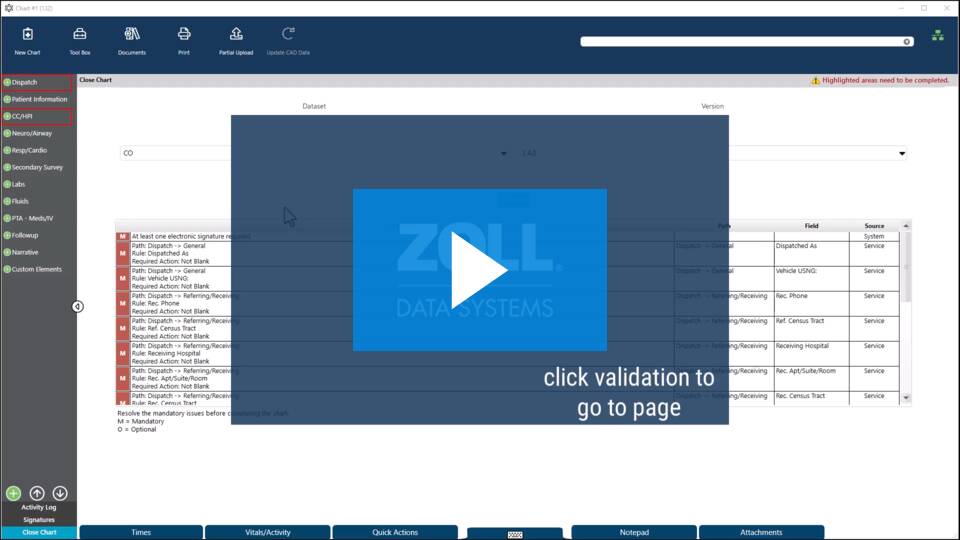 ZOLL emsCharts for Windows 4.2.4
Fixed Issues
CAD Import disables CC/HPI
Operations procedures
NFIRS update
Cardiac procedure – Size field
Carboxyhemogoblin field update
Impact Risk Factors not always showing on chart
Blood Product Administration time
Duplicate records cause chart upload failure
For any known issues, please see the release notes page.

Auto update for Windows
You can use the auto update feature to remotely upgrade your emsCharts for Windows 4.x devices to v4.2.4.
To configure auto updates, go to the Mobile V3 Auto Update Restriction code table under Service Configuration > Code Tables and add a new entry for Version 4.2.4 (64 and/or 32 bits) and set Allow Automatic Update to 'Yes'. Your 4.x devices will receive a prompt to update.
Important! If your devices are on 3.x, you must uninstall 3.x first and then follow the emsCharts for Windows installation steps to upgrade them to 4.2.4 manually. If your devices are on 4.0 – 4.1, you must click here and follow these additional steps before setting up the auto update.